Jack Lynn Performs the 

Music of Dean Martin "A Tribute to Dino" 

Jack Lynn Sings the 

Music of Dean Martin

"A Tribute to Dino"

Jack and Granddaughter Gillian at his son

 Christopher's wedding - Cocktail Hour Entertainer!!!

Saturday, October 19th, 8:00pm

A Tribute to Frank and Dean

w/Steve Kaz and the Tony T. Band

Edmund Town Hall

Newtown, CT

Friday, November 1st, 6:00pm

Private Party - Birthday Celebration

Pequabuck Golf Club

Bristol, CT

Saturday, November 2nd, 7:00pm

Echoes of Sinatra with Dean & Marilyn

w/Steve Kazlauskas

Putnam County Golf Club

187 Hill Street

Mahopac, NY

Thursday, November 7th, 6:00pm

Joey C's Boathouse Cantina and Grill

The Dock Shopping Center

955 Ferry Blvd.

Stratford, CT 06614

Call 203. 870.4838 for reservations

Saturday, November 16th, 6:00pm

J&J Tavern

137 E Hill Road

Southbury, CT

Call 203.586.1218

Friday, November 22, 6:00pm

Terryville Congregational Church

Weekend in Vegas Pasta Night

233 Main Street

Terryville, CT

Call 860. 589.0182 for details

Monday, November 25th, 2:00pm

Private Party

Cedar Commons 

Newington, CT

             Jack with AJ Lambert

    at Frank Sinatra's Birthday Party

               at Patsy's in NYC 

            December 11, 2009. 

     AJ is Frank's Grandaughter

   Jack with Sal Scognamillo owner of         Patsy's Restaurant in NYC at the                      annual "Frank Sinatra's

           B'Day Party" celebration.

                 Jack in Brooklyn at the

             Feast of Santa Rosalia 2010

     Jack and fellow singer/friend,                Angelo Ruggiero in Brooklyn

                at the Feast 2010

       Dancing and Smiles at the old

         Lucarelli's Restaurant lick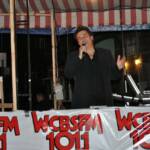 .Jack with Danny Aiello

    at Frank Sinatra's Birthday Party

               at Patsy's in NYC 

                December  2010.

.         Jack singing at Frank Sinatra's             Birthday Party  at Patsy's in NYC 

   New Year's Eve 2011 at Pamela's on             the Hudson in Newburgh, NY

.Jack and jazz great Monty Alexander during Jack's "Dino" rehearsal for December 2011 Lincoln Center show! 

          Jack and Angelo Ruggiero at 



            La Cupola  in Litchfield


  Fathers Day 2012 
La Cupola Father's Day 2013

Jack singing at a wedding - Country Club of Waterbury - Oct. 2012

Jack and the SHS Goldiggers at Aldario's Restaurant January 2013

Jack dancing to the Sinatra voice of Steve Kazlauskas at Stanziale's with  "Golddigger Carolyn" at their 

"Tribute to Martin and Sinatra" 

January 2015

Jack singing Amore at Our Lady of Mt. Carmel Church Festival - July 2015

Jazz at Lincoln Center 

Jack in show with

 Jazz great Monty Alexander

 Rehearsal 2016.

Ridgefield Playhouse 2017

Jack with the DFX Dancers

 Ridgefield Playhouse

Echos of Sinatra Show 2017

"Frank and Dean" at the "bar"

Ridgefield Playhouse 2017

Rehearsals at Ridgefield Playhouse - Jack and Steve have it tough!  2017

Performing at the Vegas Review  Fundraiser Show in Stratford, CT, October 2017 

Refreshing isn't it?  A twenty one year old Dino fan kind enough to take a picture with me at Stanziale's in Stratford 2017

Stanziale's Restaurant  Summer 2012

Stanziale's Restaurant  Summer 2012

With Aida Turturro 

 "Janice" from the Soprano's 

August 2019